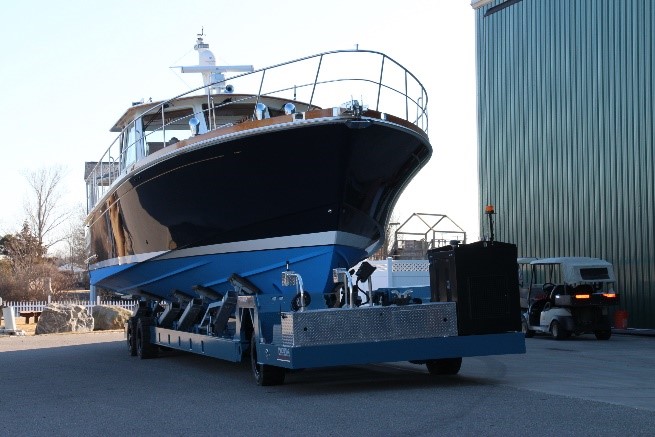 Large boats like yachts, powerboats, sailboats, and fishing boats require advanced transportation and storage equipment to ensure they are handled safely and properly whenever outside of the water. Many exceptionally large boats never leave the marina, but need be pulled out of the water and winterized during the off-season. Anticipating this routine transportation and storage requirement, marina owners invest in various trailers, stands, and other winterizing equipment to ensure the boat will make its way safely into storage, and be ready to go when the next boating season begins. HOSTAR Marine offers a number of hydraulic boat trailers to help marina and boat owners safely handle various types of watercraft– whether they need to move it across the boat yard, or across the country. A self-propelled boat trailer is designed for safely transporting boats from the marina to the boat yard, without the need for a front-end load truck.
Safe, Efficient Transport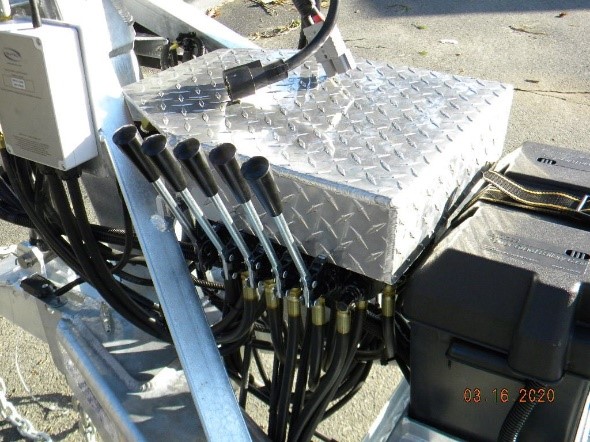 There is nothing small about a farm tractor or front-end load truck. While these large vehicles may be perfect heavy-weight towing on the roadway, they are less-than-ideal when navigating a tightly packed boat yard. If your marina is consistently moving vessels from their slip to storage, a self-propelled hydraulic boat trailer from HOSTAR can help you eliminate the need for large, awkward tow vehicles. Designed with a one-man cockpit, these models offer improved visibility and control, and allow operators to navigate tight boat yards safely and efficiently, with precision adjustment for tight situations. When using a truck, poor visibility may require multiple spotters, making the entire process require more time and staff. A properly trained dockhand can use our self-propelled boat trailers to move craft in and out of the water independently. Any application looking to safely and efficiently move a number of large watercrafts from the marina to the boat yard can benefit from this type of trailer.
Customers have trusted HOSTAR Marine to supply the very best in new and used hydraulic boat trailers, including self-propelled models. Headquartered in Wareham, MA, our trailers are loved by customers around the globe looking for turnkey boat storage solutions. Interested in learning more? Call HOSTAR Marine at 800-783-9303, or visit our website to check out our great selection.